We Are! Globaaleja kansalaisia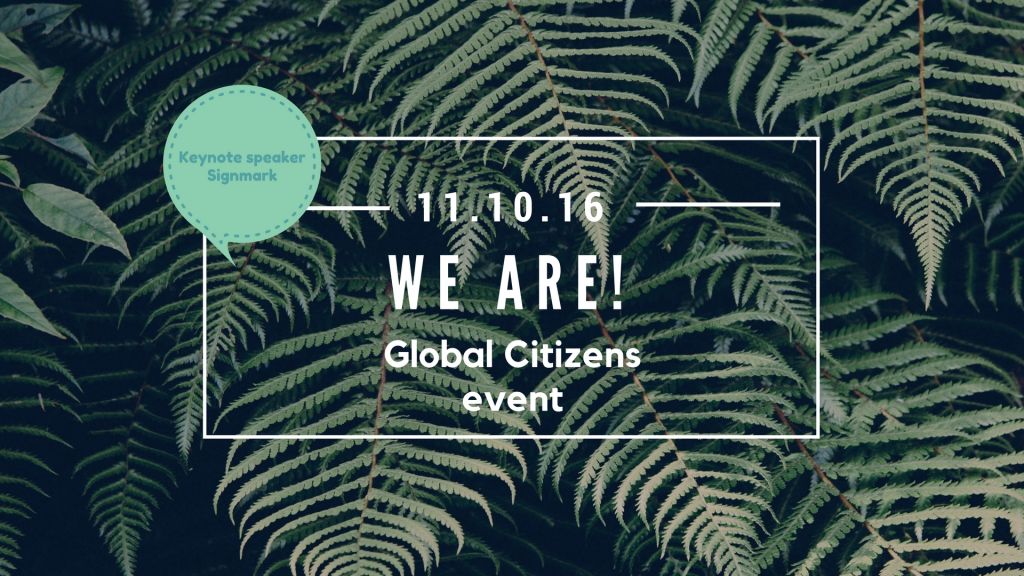 Tulevaisuuden työelämä tarvitsee uteliaita kansainvälisiä osaajia, jotka ymmärtävät globaaleja megatrendejä ja niiden riippuvuussuhteita. We Are! Globaaleja kansalaisia tapahtuma tuo globaalivastuun teeman lähelle opiskelijan arkea ilmaston muutoksen näkökulmasta. Tapahtumassa kuullaan kansalaisjärjestöjen edustajia ja asiantuntijoita sekä osallistutaan mielenkiintoisiin työpajoihin. Tapahtuman pääpuhujana on Signmark, joka tuo omaa näkökulmaansa siihen, miten globaali kansalainen voi yrittää vaikuttaa asioihin.
Ohjelma järjestetään englanniksi. Tapahtuma on ilmainen, mutta osallistujat kustantavat lounaan itse. Läheltä löytyy useita opiskelijaravintoloita.
Tapahtuma on osa TYY:n Kehyviikkoa. Ilmoittaudu tästä.
—
Future working-life needs curious international experts who understand global megatrends and their interdependencies. We Are ! Global citizens event brings the theme of global responsibility close to students' daily life from the perspective of climate change. The participants will hear interesting storiers from NGO representatives and others experts and will participate in workshops. The event keynote speaker is Signmark, who brings his own perspective on how the global citizen can try to make a difference.
The event is in English and free of charge, but the participants pay for their own lunch. There are several student lunch restaurants close by.
Register here.
Program
10:00 Event begins: Welcome & coffee
10:30 Global impact
Food: Clive Chibula / Green Living Movement ry.
Textiles: Nora Luoma / Eettisen kaupan puolesta ry.
Challenge Turku goes Green winner team
11:30 Lunch (at own expense)
12:15 My impact – what can I do? / Signmark
13:30 Global citizenship workshops
14:30 Overview & closing
15:00 Event ends